Napoleon, Emperor of France Vs Nelson, Britannia's 'God of War'
The Colonnades of the Old Royal Naval College in Greenwich have been turned into the revolutionary streets of Paris and the Painted Hall into a scene of military confrontation in Napoleon, the new epic Ridley Scott film, with Joaquin Phoenix playing the title role, and Vanessa Kirby playing the all-important character of Josephine.
The fact that this particular historic site beside the river in South East London should feature so heavily in a film all about Napoleon, gives rise to a couple of reasons to pause for thought. 
Firstly, it is a place closely identified with Napoleon's nemesis Admiral Lord Nelson. Nelson visited the Royal Hospital Greenwich (as it was called then) many times over the years, but notably it was here that his body was brought after the Battle of Trafalgar for a ceremonial lying-in-state. Over the course of three days in January 1806, up to one-hundred thousand people descended upon Greenwich to pay their respects.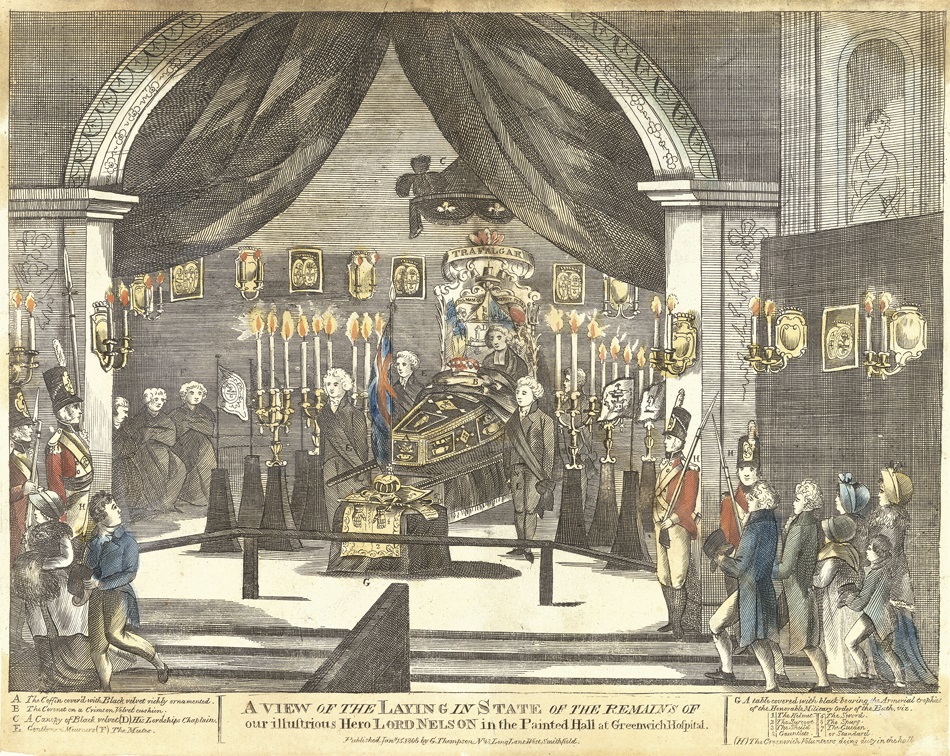 Strangely though, there were many similarities that brought them together. Both came to symbolise the military supremacy of the countries they fought for, Napoleon conquering much of Europe and making himself Emperor in 1804 and Nelson, in the words of Lord Byron, being seen as Britannia's 'God of War'. While they battled for opposite sides, these two men came from a relatively similar modest background, with no great wealth or title behind them. They both rose quickly through the ranks, then experienced a time of relative obscurity before the French Revolution and the wars that ensued provided them with the opportunities to demonstrate their remarkable strategic military skills, incredible bravery, and great leadership qualities. 
Although Trafalgar had been a great morale boosting victory for Britain, it did not really change the course of the war across Europe. Only after the Battle of Waterloo in 1815 was Napoleon's strangle-hold finally broken and he was exiled to St Helena, far away in the South Atlantic Ocean. However, on his way to this remote island Napoleon remarked that it was Nelson above all who had frustrated his dream of global domination. 
There is a second interesting fact that connects Napoleon to this site, and it lies in his death. Napoleon's body was taken from St Helena in 1840, many years after his demise and placed in a splendid sarcophagus in Les Invalides, Paris. Les Invalides was primarily built as a military hospital for injured and retired war veterans and provided the template for the Royal Hospital for Seamen in Greenwich. 
It was Louis XIV of France who initiated the project in 1670, as a home and hospital for aged and disabled soldiers and as such would have been well-known to Charles II who spent time at the French Court. Once Charles was restored as King of England, he commissioned his own military hospital at Chelsea, whilst the building now known as the Admiral's House in Greenwich, originally called the King's House, was as part of a new palace to rival Louis XIV's Versailles. It was Charles' niece, Queen Mary II and her husband King William III however, who initiated the building of a new, Christopher Wren designed, Royal Hospital for Seaman. The buildings which incorporated the King Charles block, at one time housed 2,700 pensioners.  
Whilst ironic that a film about Napoleon's life was shot in the same place where Admiral Nelson's body was put to rest, it can't be denied that the Old Royal Naval College was the perfect filming location for this epic story.
Visit to see the Nelson Room as part of general admission or join us on a Blockbuster Film Tour to find out more.