Our Vision
We aim to inspire and engage the public in heritage and creativity and conserve and protect this historic site for the nation
Our charitable aims
To inspire and engage the public in heritage and creativity and conserve and protect this historic site for the nation.
Our vision
To build an extraordinary cultural destination revealing the site's 500 years of history from Tudor Palace to Royal Hospital; from Royal Hospital to Royal Naval College and beyond to today's iconic riverside buildings, grounds and campus.
Our mission
To inspire local pride and world-wide acclaim – a place which creates rich and memorable experiences.
Our values
We are bold. We're proud of what we have and confident to shout about it. We're adventurous and build rich partnerships for everyone's benefit.
We are embracing. We're warm and approachable, welcoming diverse people and ideas, and creating a positive, nurturing environment.
We are resourceful. We're flexible in our approach, resilient and responsive to new opportunities.
We are imaginative. We are inspired to create new ways of working to deepen our impact. We make inventive use of resources and relationships as we build a cultural destination.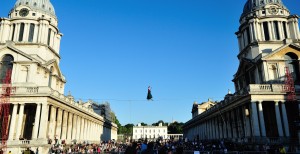 Our Vision
We are a place like no other: a place that has for generations, inspired awe and wonder, creativity and learning. This document outlines our vision as an organisation in detail.
our-vision-2020 pdf 3mb