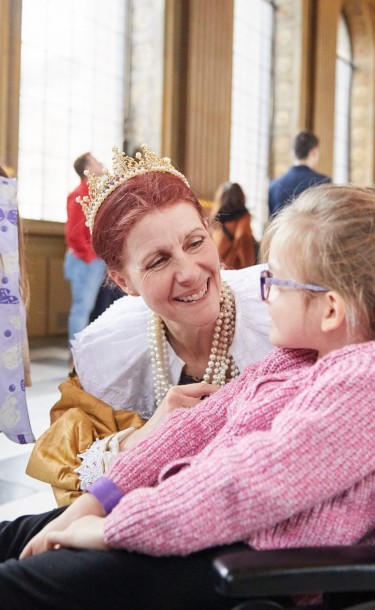 Accessibility
We welcome visitors with disabilities, their families, friends and carers
Our team receive regular training to support visitors with disabilities and there are always First Aid trained staff working 10am–5pm. We also participate in the Alzheimer's Society's Dementia Friends initiative and many members of our team have undergone this awareness training.
Visitors with disabilities are entitled to bring an accompanying carer free of charge. See Access events and Tours here.
The information below will help you to plan your visit but if you have any access-related questions please get in touch.
Tel: 020 8269 4799
Email: access@ornc.org
Accessible Travel
Car parking
Car parking for blue badge holders is available in the Park Row car park, opposite the East Gate entrance.
Taxi drop-off
For taxi drop-offs, we suggest either Park Row (nearer the East Gate) or King William Walk (nearer the West Gate). The East Gate entrance is usually slightly quieter than the West Gate entrance.
Visitors with limited mobility
Step-free access across the site
The dotted line on the map above shows step free access across the site. The distance from East Gate to West Gate is approximately 372 metres (1220 feet). If you are visiting between 10am–5pm and would like assistance, please ask a member of our team.
Visitor Centre
Our Visitor Centre is fully accessible, with level access on the ground floor and lift access to all floors. The lift has tactile operation buttons and braille on the lift numbers. There is also a voiceover recording to alert you to the floor that you are on.
Lift specifications: door width 91cm (35''), lift length 138cm (54''), weight limit 1488lbs/675kg.
Painted Hall
The capacity of the lift from College Way into the main body of the Painted Hall is one wheelchair user and one companion OR four people standing. Lift specification: weight limit 881lbs/400kg.
For visitors not using the lift but requiring step-free access to the front door of the Painted Hall, the route outlined by the dotted line on the map above should be used. Once you are inside the Painted Hall, there are 15 steps to access the Lower Hall. There are 6 steps from the Lower Hall to the Upper Hall.
Chapel
Access to the Chapel for wheelchair users is via a 'Stairmate', which is a manually driven machine which must be used by a qualified operator. The wheelchair and the wheelchair user are strapped into the machine and the whole machine is tilted to a 45° angle. The Stairmate is not suitable for electric scooters, although it is suitable for some electric wheelchairs. Stairmate specifications: weight limit 440lbs/200kg, maximum width 69.5cm (27").
For visitors not using the Stairmate but requiring step free access to the front door of the Chapel, the route outlined by the dotted line on the map above should be used. Once you are inside the Chapel, there are 14 steps to access the main body of the Chapel.
Café and Pub
The Painted Hall Cafe has step free access with a lift next to the entrance steps. The Old Brewery has level access throughout and accessible toilet facilities.
Toilets
Our main visitor toilets are located in the Visitor Centre. These are open daily between 10am–5pm. There is level access and a separate accessible toilet. Baby changing facilities are also available in this area.
Toilets located beneath the Painted Hall, next to the King William Undercroft have step free access, with baby changing facilities available. These are open daily, 10am–5pm.
There is also an accessible toilet in the Old Brewery (see food and drink below).
There are toilets in the Queen Mary Undercroft below the Chapel which are usually open 10am–4pm. Occasionally these may have to close due to events taking place. These toilets are accessed down the spiral staircase in the entrance to the Chapel (19 steps). There is no completely step free access to these toilets but if you are unable to use the spiral staircase, please speak to a member of our team who will be able to accompany you around the building to an entrance with two steps.
Wheelchairs
Manual wheelchairs are available to hire from the Tourist Information Centre in the Visitor Centre open 10am–5pm. We recommend booking in advance by calling 0870 608 2000 or emailing tic@visitgreenwich.org.uk. There is a deposit of £50.
Rest areas
There are benches located across the site. Seating areas are available in the Painted Hall and the King William Undercroft below.
Blind and partially sighted visitors
Guide dogs
Guide dogs are welcome in all areas of the Old Royal Naval College including the Visitor Centre, Chapel and Painted Hall.
Lighting
The Visitor Centre and Chapel are both brightly lit. Light levels in the Painted Hall have to be kept lower for conservation reasons.
Visitor services team guides
Members of our visitor services team have been trained to assist with guiding. If you are planning a visit and would benefit from a guide or support getting to the site from Cutty Sark DLR station please call 020 8269 4799 or email access@ornc.org.
Audio guides
Audio described tours are available for blind and partially-sighted visitors. These tours are led by staff and volunteers who have been trained in audio description by Vocaleyes. Check our access events page for more details on upcoming events.
Deaf, deafened and hard of hearing visitors
Hearing dogs
Hearing dogs are welcome in all areas of the Old Royal Naval College including the Visitor Centre, Chapel and Painted Hall.
Hearing loops
There are hearing loops installed in the Visitor Centre and the Chapel. You will see signage in places where a hearing loop is installed. If applicable to your hearing aid, please switch it to the 'T' position in these locations.
British Sign Language and Speech to Text tours and events
Our upcoming events are listed here.
The following video has been created by a group of young people from DeafQuake as part of a project exploring the history of the Old Royal Naval College.
You can download a PDF transcript of our welcome video here.
Autistic visitors
We are committed to being an accessible venue for autistic visitors and their family and friends. The pre-visit Autism information sheet provides details that we hope you will find useful but should you have any specific queries please contact the learning team at learning@ornc.org and we will be happy to assist you. Site maps can also be purchased from our Visitor Centre.
Ear defenders
The hand dryers in our toilets are quite noisy. Ear defenders are available to borrow from the Visitor Centre, Painted Hall and Chapel. These can be used outside of the buildings but must be returned by 5pm. Please ask at our welcome desk.
Quiet and busy times to visit
Our busiest times are usually in summer months, around 12–4pm. As we have a lot of outside space, the weather often has an impact on how busy the site feels. Lots of people will enjoy picnics in the grounds on a sunny day so it can be busier later into the evening. We are generally quieter before 12pm.
Our quietest months are November–February. We recommend that you check our website before your visit to see if there are any special events or closures. This will have an impact on how many people are around the site.