Life in Greenwich
The frequency with which Black Pensioners appear in depictions of the Royal Hospital for Seamen suggests they were admitted in greater numbers than is obvious from the Admiralty records. Several Out-Pensioners lived locally and had families with White British women.
At first glance, Black Pensioners seem to have been part of everyday Greenwich life. They are depicted at sporting events, in Greenwich Park, in public houses and participating in community rituals. With their clay pipes, crutches and peg legs, frock coats and cocked hats they appear to be stereotypical Greenwich Pensioners in every detail but one.
Reports of their activities in period newspapers hint at a different story and reveal the degree to which they were misunderstood or thought to be figures of fun.
---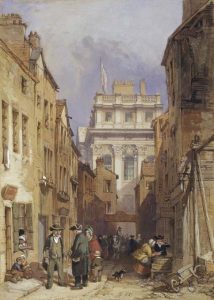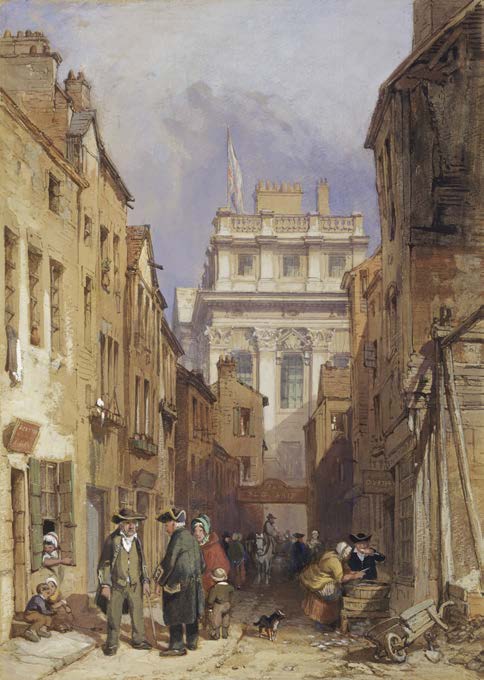 © National Maritime Museum, Greenwich
Clarkson Stanfield's watercolour of Fisher Lane, Greenwich (1848) shows how close the town was to the Hospital before clearance in the 1840s. Two Greenwich Pensioners, a tea-house and an oyster dealer can be glimpsed. There were said to be 88 inns and pubs within walking distance of the Hospital.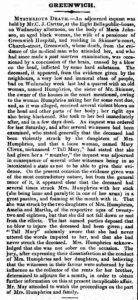 Extract from a report in the Kentish Independent, 16 January 1847 – click image to enlarge, click here for transcript
A newspaper report from January 1847 describes the death of Maria Johnson, an American Black woman who was the wife of a Greenwich Out-Pensioner, John Johnson. She died following a blow to the head during a fight over rent owed in Skinner's Court (near Roan Street). Her death indicates the conditions under which some Out-Pensioners and their families had to live.