'Brushed Aside': A Tainted Love Story
If you look closely at the steps painted on the West Wall of the Painted Hall, you may just be able to see the outline of a ghostly hand peeking out from under the carpet. There are many theories surrounding this mysterious apparition, but unsurprisingly, one of the most popular versions, involves a story of royal infidelity that may very well have ended in murder!  
When George I became King in 1714, he was not widely liked amongst the British population. In fact, his coronation on 20 October 1714 was greeted by riots in some parts of the country. Therefore, the Crown had the arduous task of reconciling the nation's Stuart past with its Hanoverian future through diverse forms of propaganda, involving writers, preachers, and artists. James Thornhill, who at the time was working on the Painted Hall, became an instrumental character in that task.  
In 1717, he was asked to prepare an additional set of designs in the Upper Hall that would represent the Hanoverian succession adding to the already existing paintings of the Stuarts, smoothing over the ideological fault lines of the previous three decades. Thornhill decided to paint George I alongside his mother, his children, and grandchildren to give an impression of strength and stability. However, his former wife, (mother of his children), Sophia Dorothea of Celle, is nowhere to be seen. The myth says that when James Thornhill asked George where he wanted his wife to be included, he just shrugged and said "Ah, just brush her under the carpet!"
But why did George hold such a grudge against Sophia?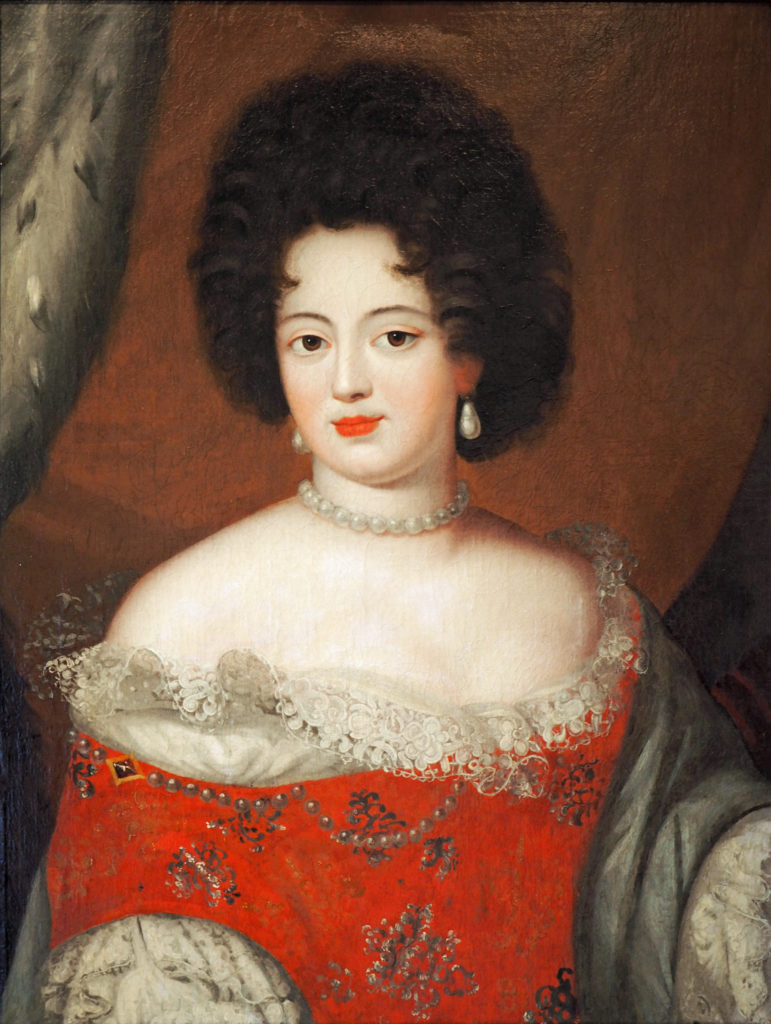 Like many Royal marriages at the time, George and Sophia didn't marry for love. Sophia's dowry was quite substantial, so their marriage was primarily arranged to ensure a healthy annual income, and to assist the eventual unification of Hanover and Celle. By 1687, the marriage had become sour, and they were both known to have affairs. George I preferred the company of his mistress Melusine von der Schulenburg, whilst Sophia Dorothea fell for Philip Christoph von Königsmarck, a Swedish Count and soldier who worked with Sophia's father-in-law, Ernest August and who Sophia had known since childhood. 
Their affair started in 1692, two years before the royal divorce. During this time, Sophia and Philip exchanged over 300 passionate love letters, which are now held in the archive at Lund University. In one of them, Philip claims: "When I remember all our exquisite transports, all our sweet violence, I forget my grief. What ardour, what fire, what love have we not tasted together!" 
In July 1694, they attempted an escape, but their plans were discovered by George I, who confronted Sophia and imprisoned her in her childhood home in Germany. Soon after, Philip disappeared. It was rumoured that he was secretly murdered by orders of the King. As part of the marriage dissolution, Sophia was never allowed to see her children again and was kept as prisoner at the Castle of Ahlden for the remainder of her life, where she died at the age of 60 in 1726. 
Even though it is unlikely that the ghostly hand belongs to Sophia, as her affair took place years before Thornhill started working on the Upper Hall, one can understand the appeal of this story, especially for he pensioners who lived in the Royal Hospital and who could make some extra pocket money by delivering entertaining tours of the Painted Hall. Naval Officers also were notoriously superstitious, so it is not surprising that they themselves believed this myth and played their part in spreading it to attract more people to visit the Painted Hall! 
Ghostly hand or not, why not plan a visit to see for yourself?