Services and Events
The Chapel is open to the public every day from 10.00am–5.00pm. Please note that it may be closed occasionally for special services and events. Daily updates can be accessed through the Chapel's Church of England website.
Everyone is very welcome to attend our regular services: Choral Eucharist or Choral Matins on Sundays at 11.00am, Choral Evensong on Mondays at 5.30pm (term-time), and a Said Eucharist on Wednesdays at 1.05pm.
Access the Chapel's weekly service sheets, recent sermons, and other resources can be found here.
Further information is also available on the Chapel Facebook page.
Choral Eucharist or Choral Matins
Sundays, 11.00
These services follow the liturgies of the Book of Common Prayer (1662) and last about an hour and fifteen minutes. In addition to the mass or canticle setting sung by the choir, a sermon is preached by one of the clergy. A self-service crèche is available for families with young children.
Choral Evensong
Mondays, 5:30pm
This service also comes from the Book of Common Prayer (1662) and lasts about forty-five minutes. Consisting primarily of music sung by the choir, Evensong is renowned for its contemplative beauty. It is an opportunity for students, staff, and visitors to pause and reflect amidst the busy demands of daily life.
Said Eucharist
Wednesdays, 13.05
This short, spoken service follows the contemporary language rite from Common Worship and last about thirty minutes. In addition to Holy Communion, it includes Bible readings, prayers, and a short reflection.
Lunchtime Recitals
Tuesdays and Fridays, 13.05
Twice a week throughout term-time, students and staff from Trinity Laban Conservatoire offer chamber concerts in the Chapel. Admission is free. The concerts are about forty-five minutes long. Find out more.
Accessibility
Access to the Chapel for wheelchair users is via a lift, which is accessible from College Way. Please let us know in advance of your visit if you will need to use the lift, so that we can make sure we have someone on hand to assist you. Email [email protected] to make arrangements. A stairmate is also available for access into the Chapel.
The lift is not suitable for mobility scooters, though we do have a wheelchair you may use while visiting the Chapel if necessary. If you are a mobility scooter user, please email [email protected] to enquire about using the wheelchair.
Please note that the lift will not be available while services or recitals are taking place in the Chapel.
Baptisms, Funeral and Memorial Services
Please contact the Chaplain (see details below) to discuss the possibility of holding a baptism (also known as a christening) or a funeral or memorial service. These services are generally held for those who are, have been, or are willing to become regular members of the Chapel congregation. Memorial services may be held for those who have historic links to the site, perhaps due to their service in the Royal Navy.
Weddings
If you are interested in getting married in the Chapel, please contact our Chapel Manager, Deborah Robson on 020 8269 4788 or email [email protected]
Contact Us
The Chapel is a resource for everyone at the Old Royal Naval College.  If you would like to learn more about its life and worship or would value some pastoral support, please contact the Chaplain, the Revd Dr Robert Tobin, at [email protected].
For all other matters please contact the Chapel Manager, Deborah Robson [email protected]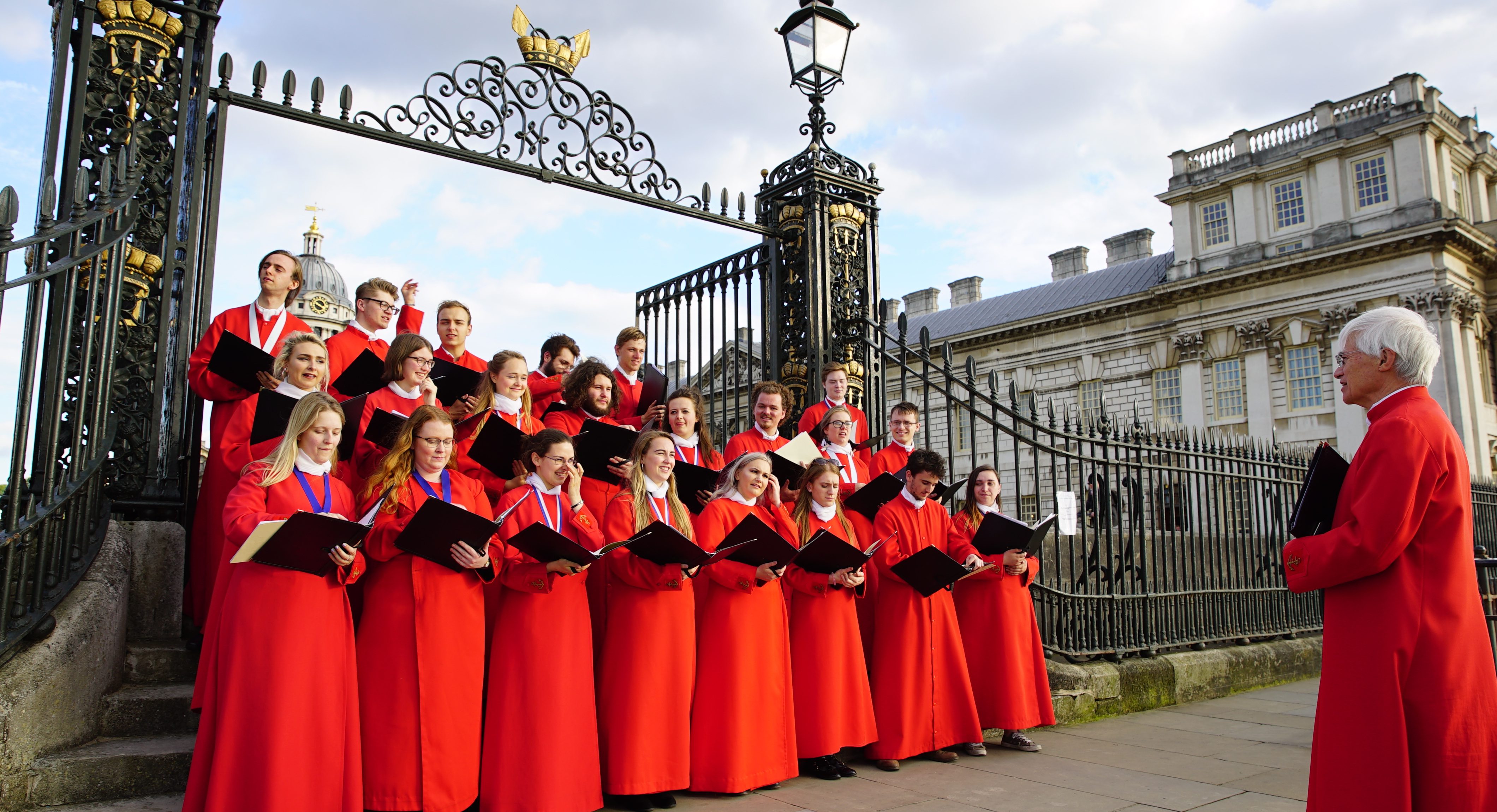 The Chapel Choir
Since 2001, the Old Royal Naval College Trinity Laban Choir has provided outstanding sacred music for the Chapel. The choir includes accomplished singers from Trinity Laban Conservatoire and the local community. It is directed by Dr Ralph Allwood MBE with support from the chapel organist, Jonathan Eyre.
Find out more