Hidden Stories: Black Women of Greenwich
Greenwich is home to thousands of stories relating to many historical figures, from Charles Dickens to Henry VIII. You may already be familiar with some of the best-known stories and people, but Greenwich has also been home to some lesser-known characters with equally impressive life stories. Keep reading to learn about royal bedmaker Catalina of Montril, poet Phillis Wheatley and sailor William Brown.
Catalina of Montril
Did you know, in Tudor England, a Black woman could have stopped Henry VIII from marrying Anne Boleyn with just her word?
Catalina of Montril was born in Montril, Granada in the late 1400s. It is believed she was Muslim and of North African heritage. In 1492, Spanish forces took over Granada, forcing Muslims to flee the region. Those who had nowhere to go were often forced into slavery and converted to Christianity. It is believed that this was the fate of Catalina, who joined Catherine of Aragon's house as a slave and royal bedmaker. In fact, it is likely that Catalina was not her real name, and that she was named after her mistress, Catherine.
In 1501, aged only 15, Catherine of Aragon set sail for England to marry Prince Arthur, son of King Henry VII. Catherine was accompanied by a group of Spanish ambassadors and about 60 servants, including Catalina of Montril and trumpeter, John Blanke.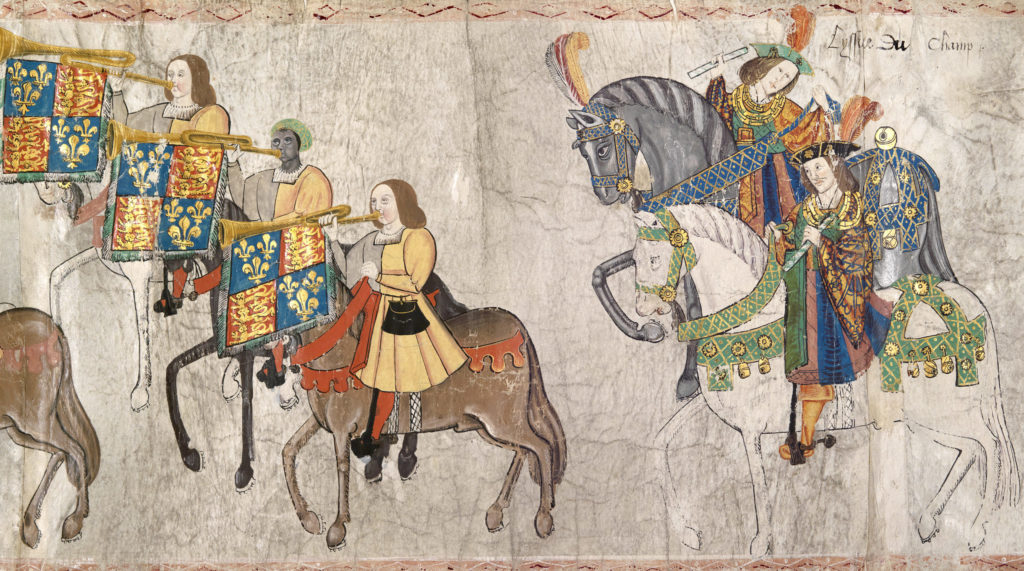 They arrived in Plymouth on October 2 facing the combined challenges of new customs, an unfamiliar language and the English weather. Following the marriage of Catharine of Aragon to Prince Arthur, Catalina of Montril would have been in charge of preparing the bed that was used for their wedding night, placing her in the unique position of knowing whether Catherine and Arthur's marriage was ever consummated. This was an important issue that would become key to the future of the English crown and society.
Unfortunately, in 1502 (only six months after the marriage), Prince Arthur died, probably of 'sweating sickness'. To keep the alliance with Spain, it was decided by King Henry VII that Catherine would marry Arthur's younger brother, Prince Henry (later Henry VIII). This was not a straight-forward process as, to annul the marriage with Arthur, the Church needed proof that their marriage was not consummated. Only a handful of people would have known the truth, one of whom would have been Catalina. According to one Spanish account, 'Catalina was present the first time the Queen and Henry were united as one.'
Eventually, in 1509, having received a dispensation from the Pope, Henry VIII and Catherine married in the grounds of Greenwich Palace. They had six children together but, tragically, five died in infancy. Only one daughter survived (later Mary I, who inherited the throne in 1553). Catalina would have been a close witness to Catherine's suffering during this difficult time.
Around 1527, when Henry VIII first started pursuing the affections of Anne Boleyn, Catalina returned to Spain. Here she married a bow maker called Oviedo, with whom she had two daughters. To travel freely and marry, Catalina must have been liberated from slavery. It is not clear whether Catherine formally released Catalina from slavery or whether, by serving in England (which lacked a code for modern slavery), she was automatically freed.
Shortly after Catalina's return to Spain – when Henry VIII was looking to divorce Catherine of Aragon to marry Anne Boleyn – Catalina was called back to England to testify as to whether or not the marriage between Catherine and Prince Arthur had been consummated. Records say that Catalina was to be 'thoroughly examined so she may say all she knows.' Unfortunately, we do not know whether she did attend court to testify. It is likely that she remained quiet to stay loyal to her mistress. Catalina appears to have taken her knowledge of that wedding night to her grave. The court concluded that Catherine and Arthur had consummated their marriage, invalidating Catherine's second marriage to Henry, resulting in Henry's subsequent marriage to Anne Boleyn and England's break with the Catholic Church in Rome.
Phillis Wheatley
Did you know, aged only 20 years old, a West African poet became the first published Black Woman?
Gambia-born Phillis Wheatley was taken to North America as a child circa 1760 and enslaved in Boston, where she worked for the Wheatley family. Phillis was taught to read and write by the Wheatleys and soon her talent for poetry became clear. By the time she was 18, she had written a collection of 28 poems. After several unsuccessful attempts to find a published for Phillis's poems in North America, she and the Wheatleys sought out a publisher in London.
Selina Hastings, Countess of Huntingdon, who was a wealthy supporter of evangelical and abolitionist causes, instructed bookseller Archibald Bell to begin correspondence with Wheatley in preparation for the book. Accompanied by the Wheatley's son, Nathaniel, Phillis left for London on May 8, 1771. Here she was received by several dignitaries and abolitionists including Benjamin Franklin. In a letter to a friend on 18 October 1773 she mentioned taking part in a tour of Greenwich.
Her book Poems on Various Subjects Religious and Moral was published in London in 1773, making her the first Black woman to be published in English. In 2020, as part of the programming around the Black Greenwich Pensioners exhibition, acclaimed playwright Ade Solanke staged an excerpt of her play Phillis in London in the Painted Hall. The play re-imagines and dramatizes Phillis life and her visit to Greenwich, which included a tour of the Painted Hall. You can watch this section of the play below:
William Brown
Did you know, in 1815, the Royal Navy discovered a Black woman in their ranks, disguised as a man?
William Brown, whose real birthname is unknown, was a Black woman who joined the Royal Navy under a man's name in the early nineteenth century. At the time, it was not unusual for women to pass themselves off as men to enlist in the Navy, but 'William' was the first known Black woman to have attempted this subterfuge.
There are varying accounts of William's story, but one article published in The Times in 1815, states that she was a 'highly skilled seaman' and that she served upwards of eleven years on board HMS Queen Charlotte, the former flagship of Britain's Channel Fleet.
Black Women of Greenwich Workshops
If you would like to learn more about these three fascinating women, schools and community groups can now take part in a free workshops, delivered by our Learning team. Click here to find out more.