Two Years Since Painted Hall Conservation Project
This week we are celebrating two years since the Painted Hall reopened after extensive conservation and renovation of the King William Undercroft.

The two‑year National Lottery Funded conservation project brought the magnificent painted interior vividly back to life, revealing details that had not been seen in many years. The stunning transformation didn't stop at the Painted Hall; we undertook a full refurbishment of the Undercroft below, which now houses a shop, café and gallery space. The project also gave us an opportunity to install two lifts, making the Undercroft and Painted Hall wheelchair accessible.
The Painted Hall reopening was part of a major transformation project, led by Hugh Broughton Architects – with conservation advice from the College's Surveyor of the Fabric, Martin Ashley Architects.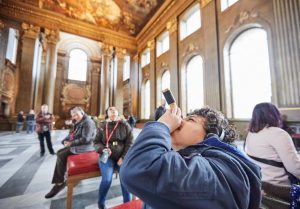 Since March 2019, we have been delighted to welcome over 222,000 visitors to the Painted Hall and King William Undercroft, and our wonderful guides have delivered 5,440 tours, bringing to life the stories of the colourful cast of characters on the ceiling, from Greek gods and goddesses to scientific pioneers and royal icons. We've also been keeping you busy at home, having sold 405 jigsaw puzzles depicting the Painted Ceiling – our best-selling retail product! If you don't have one already, why not get yours now, from our brand-new online shop, and see what all the fuss is about?
We are incredibly proud of both the transformational conservation work that took place, and the improved visitor experience that we have implemented since reopening. We're thrilled to have won 11 industry-leading awards, including being the only project in the UK to be successful in all three categories of the Civic Trust Award 2020, celebrating excellence in the built environment, and being awarded VisitEngland's Large Visitor Attraction of the Year 2020.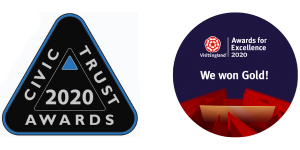 Despite being closed for much of the last year, the Painted Hall has still been buzzing with activity, with a plethora of photoshoots, filming projects, and media moments being hosted in and around the Hall. We have also hosted virtual tours, a sold-out run of Luke Jerram's breath-taking installation Gaia, and a performance of Phillis in London, from acclaimed playwright, Ade Solanke.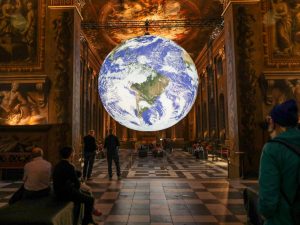 We are so excited to welcome visitors back to our grounds from 12 April, and into our magnificent buildings when government guidance allows in May. We have lots of exciting plans to build on our success over the past two years and can't wait to share them with you. Book now to secure your entry and remember that your ticket gives you unlimited entry for a year, so you can come back as many times as you like to ensure you don't miss out on anything we have planned!