Bridgerton Late: The Regency Period
Venture into the 19th century and learn about life in Britain during the Regency era...
Bridgerton is set between 1813 and 1827, which was part of what is known as the Regency era (1811 – 1820), a period change and development in the world of fashion, architecture, and style.
It is suggested that after the youngest daughter of George III, Princess Amelia died, the King became mentally ill. Due to this reason, the Parliament decided to suspend him from his duties and establish the Regency Act in 1811. By this act, George, the oldest son of George III and Prince of Wales was declared Regent Prince and effectively ruled until the death of his father in 1820. After this, he became George IV and ruled for another ten years until his own death.
George IV acted as a patron for many of the new movements in painting, sculpture, literature, music and technology. It was a period ruled by elegance and etiquette – a romantic world full of balls and duels, not too dissimilar from the scenes you can watch in Bridgerton.
George IV's great-great grandfather, George I of Hannover is depicted in the Upper Hall. In fashion, women started wearing tighter fitted clothes with a high waist to emphasise their bodies. Long gloves, parasols, reticules and fans played a significant role to their styling. Nowadays it is widely believed that fans were used for relaying secret messages. In reality, the less romantic truth is that this so-called fan etiquette was a marketing ploy to boost the sale of fans in the 19th century, after they had fallen out of fashion following the French Revolution.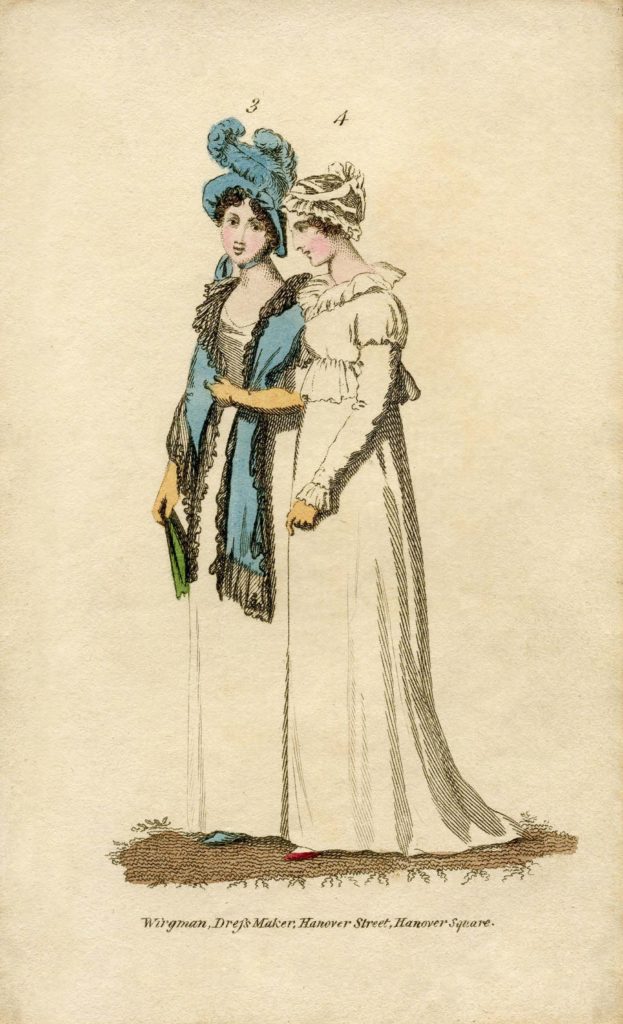 Literature and architecture developed rapidly and were influenced also by the Romantic movement. Jane Austen, Lord Byron and William Wordsworth are some of the people who lived and created their masterpieces during this period.
The main activities for women during this period were dancing, riding and social gatherings as well as they were writing poetry, telling stories and doing needlework. On the other hand, men traditionally occupied themselves with boxing, horse racing, rowing, sailing and cricket. Watercolour painting, drawing and sculpting were popular among both men and women.
During the Regency era, the Painted Hall became one of the first public art galleries, with many naval themed paintings gracing its walls. Find out more…