The team working on the Painted Hall Project have uncovered the remains of Greenwich Palace, birthplace of Henry VIII and of his daughters Mary and Elizabeth I.
Greenwich Palace had a scale and magnificence comparable to Hampton Court Palace, set in a riverside setting close to the Woolwich and Deptford docks. It comprised everything from state apartments, courtyards, a chapel, elegant gardens, a substantial tiltyard for jousting with a five-storey tower for viewing, and was at the very heart of Tudor cultural life and intrigue.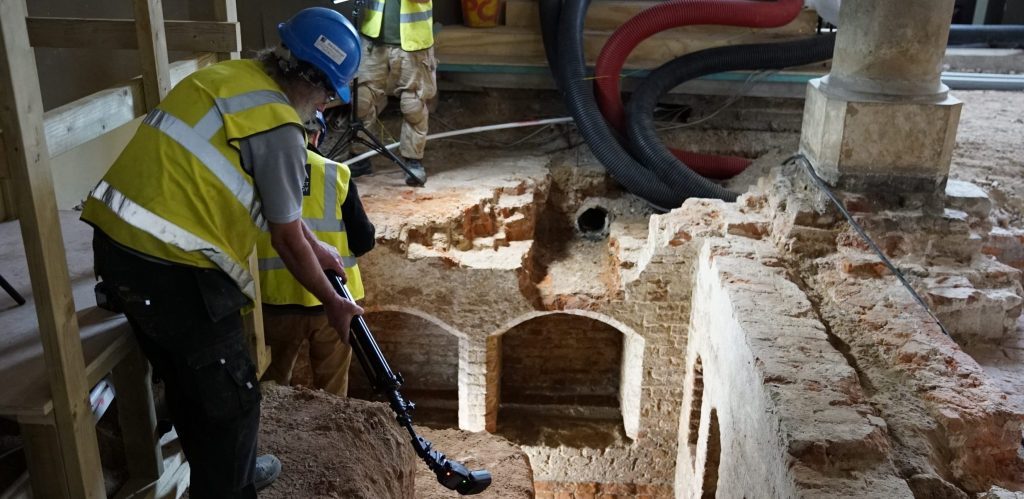 Archaeologists document the Tudor finds beneath the Painted Hall shortly after their excavation
Careful preparation of the ground for a new visitor centre below the Painted Hall led to the discovery of two rooms of the Tudor palace, including a floor featuring lead-glazed tiles. Being set back from the river, these are likely to be from the service range, possibly where the kitchens, bakehouse, brewhouse and laundry were. One of the rooms was clearly subterranean and contains a series of unusual niches, which archaeologists believe may be 'bee boles' for the keeping of skeps (hive baskets) during the winter months when the bee colonies are hibernating.  Bee boles have occasionally been found in historic garden walls, but it is very rare to find them internally, making this find even more significant. The niches were probably used for keeping food and drink cool in the summer months when the skeps were outside.
Nothing of Greenwich Palace survives above ground today. It fell into disrepair during the civil war years and was eventually replaced by the spectacular buildings that today make up the Old Royal Naval College, Sir Christopher Wren's riverside masterpiece.
The Painted Hall at the Old Royal Naval College, described as 'the Sistine Chapel of the UK', is currently undergoing a major transformation over the next eighteen months, including the creation of a new visitor centre, a gallery and café developed by Hugh Broughton Architects. Visitors currently have a once-in-a-lifetime opportunity to get up close to the ceiling of the Painted Hall through a series of ceiling tours, which are accessible to all.
Discussions are now underway over the possibility of displaying the Tudor archaeology within what will be the new Painted Hall visitor centre.  A further £2 million is necessary to complete the project. Donations will go towards the conservation and construction of the visitor centre – including the display of the Tudor remains.