A Secret Nuclear Reactor in the Heart of Greenwich
Did you know that there used to be a nuclear reactor in the middle of London?
When the Navy transitioned from sail to steam around the middle of the 19th century, it became increasingly important for officers to understand and keep up to date with new aspects of naval science. Only a few decades later things had moved on, and nuclear power became one of those advancements. Shrouded in great secrecy, an Argonaut series 10-kilowatt nuclear reactor, nicknamed JASON, was installed in 1962 by the Ministry of Defence, securely placed in the basement of King William Building of the Royal Naval College in Greenwich (now the Old Royal Naval College).
Compared to contemporary nuclear power stations, JASON was somewhat small, measuring only about 12 feet high. However, it was surrounded by more than 300 tons of steel and concrete cladding and was used by the Royal Navy to educate and train future engineering officers on nuclear-powered submarines.
At the time, Greenwich was designated as a 'Nuclear Free Zone', however, the boundary carefully excluded the College!
Removing JASON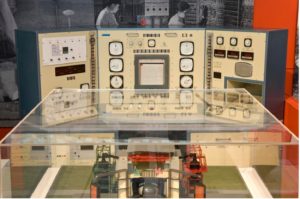 Credits: © The Board of Trustees of the Science Museum
The Ministry of Defence moved the nuclear reactor between 1996 and late 1999. In a 1995 Independent article, Walter Patterson, a leading nuclear expert, commented: "It may be a small reactor, but they weren't built to be moved around." Patterson was not wrong. Despite its size, moving Jason was no easy feat. It was the first time that a shore-based reactor was completely decommissioned, so everything had to be learned from scratch! 
Throughout the years, the cladding had gradually become irradiated and needed controlled removal and disposal. The first stage in the programme, which was completed by June 1998 involved disabling the reactor and removing operational equipment. The rest of the programme consisted of fuel removal, reactor dismantling, waste removal, site survey and clean up. The final radiological clearance of the site by the Environment Agency was achieved on 4 November 1999. In the end a total of 270 tons of nuclear waste were removed from the area!
Not surprisingly this was the only reactor ever installed inside a Grade I-listed 17th-century building! When the building was listed in 1973, this facility was top secret, and therefore no mention of it appears on the official list entry.
Once the work was completed, the Royal Navy handed over the site for civilian occupancy and unrestricted future use. No trace of the original reactor remains inside the Old Royal Naval College, however, people visiting today can see a replica of JASON in the Visitor Centre. It proves as just one reminder of the many uses these buildings have had over their 500 years of history, with the naval training college being a fascinating part of this story form 1873 to 1996.
Plan a visit today and discover over 500 years of history.