Lights, Camera, Action for Historic Film Set
Watching a film or TV show and being transported to a destination or exclaiming "I've been there!"  is part of the magic of watching movies. And for heritage and historic buildings, filming can provide significant income through location hire fees.
In addition, being associated with a film or television show can be a powerful draw for international and domestic visitors who wish to visit a famous movie location, and subsequently contribute to a place's vital visitor economy.
The Old Royal Naval College is no exception. Today, we are a diverse, cultural space at the heart of Royal Greenwich. We are a heritage visitor attraction, a place of worship, learning space, retailer, host to commercial events, as well as a film and TV location for countless productions over the last few six decades.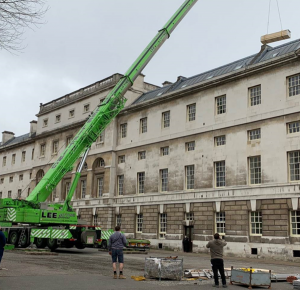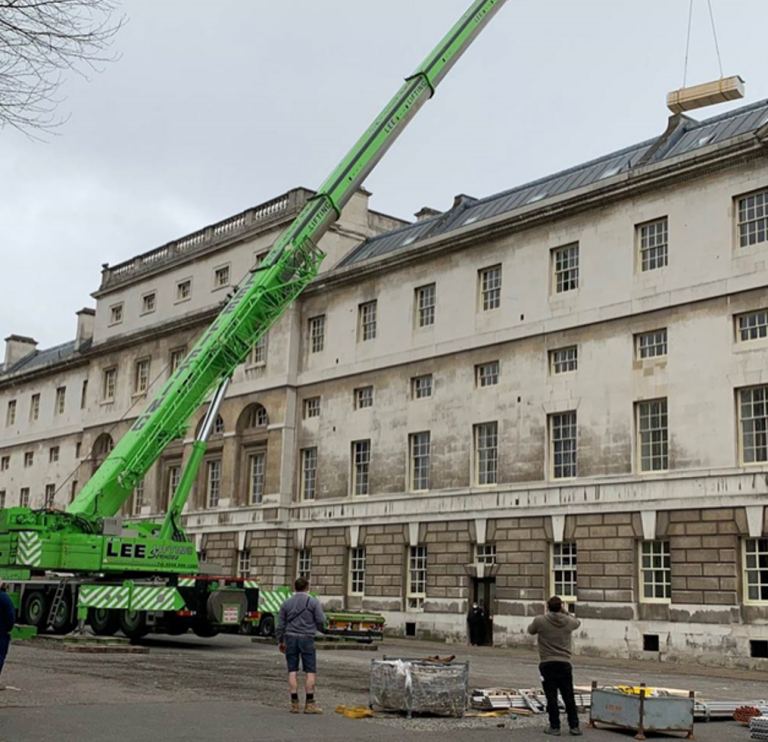 Sadly, over the last year filming halted completely due to the COVID-19 pandemic. In March 2020, a large film production got pulled a day before we were all forced into a national lockdown.
We have had no productions on site since then until earlier this year in February, when in the last 39 days, we have had four large film and TV productions on site bringing in much needed income and excitement.
This has been a busy time for our Operations and Facilities team with getting these films in and off site, and meeting the gruelling schedules of the production companies.
In February, Greenwich was transformed into an alien invasion set for a forthcoming Apple TV show inspired by HG Wells' War of the Worlds. College Way and outdoor spaces in the grounds were dressed in hundreds of props, including telephone boxes, post boxes, bollards, a bus stop, burnt out cars, and a bus and bin lorry used as a barricade.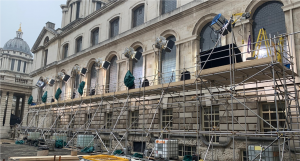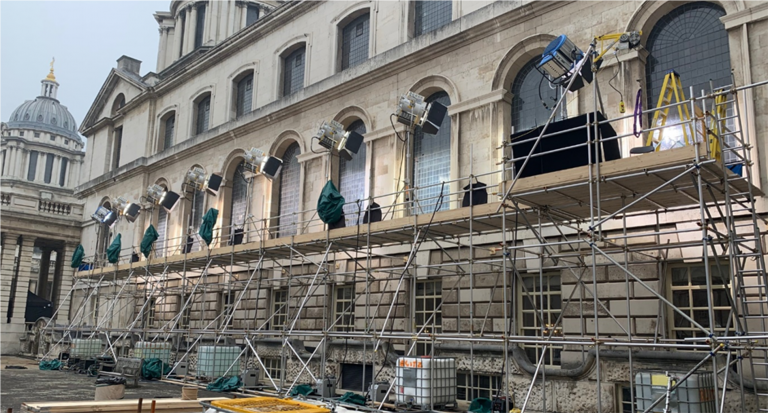 Other filming has included a new television series based on comic books written by Neil Gaiman which involved five nights of filming, of which two were in the magnificent Painted Hall, as well as a new Apple TV series Slow Horses, based on the books by Mick Herron. The Mews area of the site was used, transforming our gates and buildings into intelligence officers' headquarters.
A new Marvel Studios project involved lighting the Chapel from the outside. Managing permissions is a key part of the role that the team at the Old Royal Naval College have to undertake. Lighting the Chapel in this way required considerable cranes and lifts installed across the building. Permissions needed to be sought from our site partners, the University of Greenwich, as well as Historic England, who looked at risk assessments and method statements before any filming could begin.
The filming we get on site is varied and an exciting spectacle for those passing by as it offers a real opportunity to see a working film or TV set first-hand. It also provides us with other ways to tell our story and showcase our beautiful buildings and grounds to the whole world.
A new Film and TV tour was introduced on the last weekend of every month, which has proved extremely popular with visitors, covering the multitude of movies that have been filmed on our site.
The guided tour is a behind the scenes look through over 60 years of filming both on the iconic riverside grounds and inside the magnificent buildings. Within the film industry we are considered a major filming location and a headline in Empire magazine once asked: "Is this the most popular filming location in the world?".
Is Greenwich's Old Royal Naval College taking over Hollywood? Come and find out!
Tours
Blockbuster Film Tours
Saturdays & Sundays | 12.30pm & 2.30pm
Join us for a fascinating behind-the-scenes tour of what's been called "the most popular filming location in the world." (Empire magazine).
Find out more