Celebrating Trafalgar Night at the Old Royal Naval College
On Friday October 21st, there will be a special formal dinner steeped in naval tradition in the Painted Hall of the Old Royal Naval College.  
Trafalgar Night has been celebrated each October to commemorate the great victory at the Battle of Trafalgar in 1805 by the gallant Admiral Lord Nelson and the brave sailors in his fleet. 
This terrible sea battle between the British Royal Navy and the combined fleets of the French and Spanish Navies during Napoleonic Wars (1803–1815) secured the shores of Great Britain from Napoleon. Following his death during this battle, Admiral Nelson lay in state in the Painted Hall before his funeral in St Paul's. His final journey is now recorded in the Nelson Room, adjacent to the Upper Hall.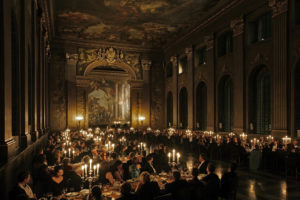 Trafalgar Dinner 2019 © Roger M. Stevens
The dinner will be hosted by the Greenwich, Deptford and Rotherhithe Sea Cadet Unit, one of the oldest Sea Cadet Units in the country and now in its 101st year. The unit is based in T.S. Dreadnought within the grounds of the historic Old Royal Naval College in Greenwich.  
All proceeds will benefit the young people of this unit, helping them develop new skills for life.  
The evening's proceedings in the spectacular surroundings of the Painted Hall include a four-course dinner with music by the Royal Marine Reserve Quartet. An opera singer will serenade the ensemble and a tribute given to the Great British Seamen by Vice Admiral Sir Adrian Johns KBE. 
Tickets are available for this very special black-tie event from the Treasurer.  
For further information please email [email protected]