George I – 'Pudding King'?
Plum pudding has its roots in medieval times, when fat, spices and fruits were mixed with meats, grains and vegetables and packed into animal stomachs and intestines so they would keep as long as possible. Then, as now, the 'plum' in plum pudding was a generic term for any dried fruit—most commonly raisins and currants, with prunes and other dried, preserved or candied fruit added when available. By the end of the 16th century, dried fruit was more plentiful in England and plum pudding made the shift from savoury to sweet.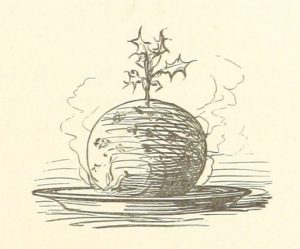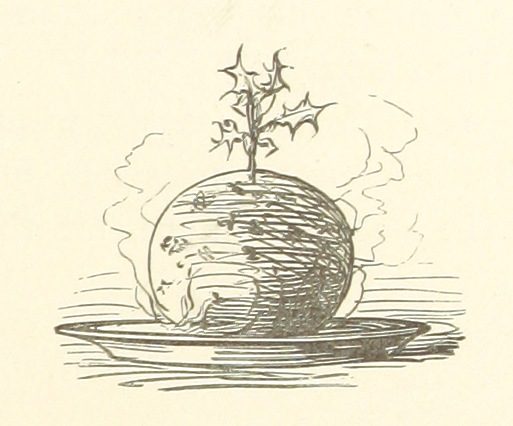 Illustration from Dickens' A Christmas Carol, by S. Eylinge, 1869 (British Library, via Flickr Creative Commons)
Plum pudding was served at the end of a meal all year round and it wasn't until the mid-seventeenth century that it became particularly associated with Christmas.
An often-repeated story goes that King George I requested plum pudding as a part of the first Christmas feast of his reign, in 1714. Because of this, George I has been christened 'the Pudding King' by many food writers. However, there are no written records in the 18th and 19th centuries to suggest that George I deserved this title.
The association of plum pudding with Christmas seems to have strengthened from the 1830s onwards and it would have been served at Christmas to the Greenwich Pensioners living at the Royal Hospital, and later to the officers training at the Royal Naval College. A poem published in 1838, said to have been written by a Greenwich Pensioner some years before, included a description of life at sea on Christmas Day:
'We'r lucky on this Christmas day, The fish around us all at play! As if they knew our fare aboard With beef, plum-pudding to afford.'
King George V, who sampled the delights of Empire Christmas Pudding on Christmas Day 1927, probably has more legitimate claims to the title 'Pudding King' than his Hanoverian ancestor. On that occasion, the King and his family ate a widely-publicised pudding made by royal chef André Cédard using ingredients from all over the British Empire – a choice that was part of a campaign to encourage the consumption of Empire goods and promote trade within the Empire.
An early written recipe for a simple plum pudding can be found in John Nott's The Cooks and Confectioners Dictionary published in London in 1723:


Here's a slightly updated version of the same recipe, in case you'd like to try it out:
INGREDIENTS
750g shredded suet
750g raisins
200g plain flour
200g brown demerara sugar
8 eggs (8 yolks and 5 whites)
1/4 tsp sea salt
METHOD
Beat 8 egg yolks and 5 egg whites with the salt until frothy. Add in the sugar, flour, and then finally stir in the shredded suetand raisins until everything is coated and thoroughly mixed.
Take a piece of damp muslin cloth and flour it all over. Add the plum pudding mixture into the centre, gather the four corners of the cloth and tightly twist them to seal the pudding mixture, making a round 'cannon ball' shape. Tie a tight loop of string around the gathered corners to hold the pudding together. To keep the round shape, the pudding should be boiled suspended by string so that it does not touch the bottom of the saucepan.
Pour in enough boiling water to cover the pudding when suspended. Boil it like this for five hours, topping up with boiling water to keep the pudding covered.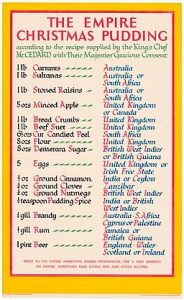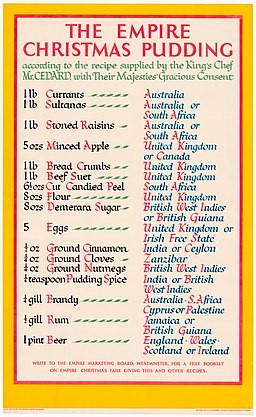 "The Empire Christmas Pudding: A Christmas Pudding Recipe", circa 1926-1934