Blood and Battle: Dissecting the life of William Beatty
The life and work of renowned 19th-century naval surgeon and physician, Sir William Beatty, is being explored in all its fascinating – and often grisly – detail in a new immersive exhibition.
Launching on the 5th of November at the Visitor Centre, Blood & Battle: Dissecting the Life of William Beatty marks 200 years since Beatty took up the post of Physician to the Royal Hospital for Seamen in Greenwich – now the Old Royal Naval College. Blood & Battle takes a deep dive into his exceptional career as well as the wider world of medical practice in Nelson's navy.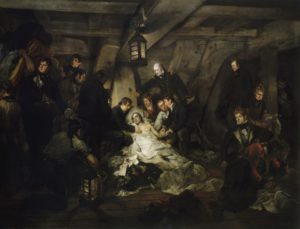 The exhibition will allow visitors to see up close the tools of the naval surgeon's bloody practice and learn how he saved the lives of an overwhelming number of sailors – which was unusual at the time.
The exhibition will feature a range of objects, including a replica of Nelson's life mask and 18th and 19th-century surgical instruments, including Beatty's own medicine chest. Visitors can experience what it was like to be in HMS Victory's cockpit during battle, with an immersive recreation of the make-shift medical bay complete with sights, smells and sounds.
Beatty joined the Royal Navy at the age of 18, surviving a yellow fever epidemic and a shipwreck and working his way up the ranks to become the Ship's Surgeon on the HMS Victory and, later, Physician of the Channel Fleet. He performed life-saving surgery including amputations aboard HMS Victory during the Battle of Trafalgar.
Famously, Beatty tended to Vice Admiral Lord Nelson after his fatal injury during the battle. He later wore the musket ball that killed Nelson in a locket on his watch chain for the rest of his life. Visitors to the exhibition can hear Beatty's account of Nelson's death in his own words with excerpts from his Authentic Narrative of the Death of Lord Nelson.
The exhibition will allow people to discover more about medicine and surgery in the Georgian navy when the profile of surgeons was building and the field of medicine was advancing. They will learn about Beatty's work as a ship's surgeon and his time at Greenwich Hospital, responsible for the health of nearly 3,000 pensioners. Appointed Physician Extraordinary to George IV and the Duke of Clarence (later William IV), he was knighted in 1831. Beatty also had interests outside medicine. Visitors can find out how he contributed to local life in Greenwich, including his involvement in developing the London – Greenwich Railway.
This engaging and immersive exhibition will transport audiences back to the 19th century, blending maritime and medical history into a compelling exploration of William Beatty's life and work.