Workshop
Fiona Veacock's Ceramic Workshops
25 September - 27 November | Various times
Tickets: £10 - £28.50
Mews School Rooms
Plan A Visit
Local artist Fiona Veacock will be hosting family-oriented ceramics workshops as part of our day events. 
These workshops will give participants the unique opportunity to create objects made from clay, which Fiona will fire, glaze and return to the Visitor Centre for collection.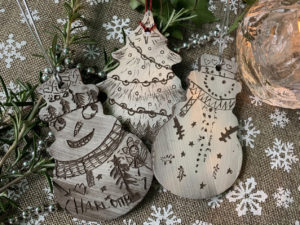 Workshop:
Christmas Decorations
Sunday 27 November| 12pm – 12.45pm, 1pm – 1.45pm, 2.15pm – 3.00pm, 3.15pm –4pm | £10 – £12.50 pp 
Nov 27th is Museum Shops Sunday, a national day of activities to promote the fantastic retail offers of Heritage & Cultural sites. As a supplier of the gift shops at the Old Royal Naval College, Fiona has been invited to create these special festive creative sessions.  
Participants will be using a traditional studio ceramics technique called Sgraffito, scratching through a coloured layer on a contrasting clay colour to reveal the clay underneath. 
For this session Fiona will have prepared a rich dark studio grade stoneware clay into shapes and over painted with a contrasting white clay, which will be stiff and partially dry.  
This session allows for settling in, sketching a few ideas, and then carefully scratching through to reveal your design. The cost includes the studio prep and kiln costs. You can pre-book additional decorations to draw on.  
This workshop is for adults and children. Beginners will get plenty of help, but children under 8 will need adult assistance. 
In addition to this activity, there will also be an additional table for longer free play with clay. This won't be charged or fired. 
The dishes will be fired, glazed and returned to the Shop at Discover Greenwich for collection from the 10th of December. 
Click here to book.