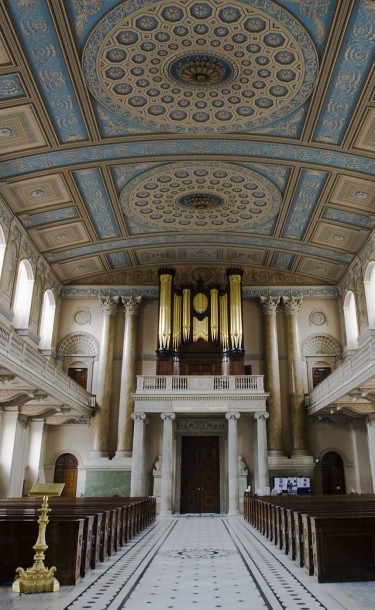 Chapel Services
Our usual opening hours are 10am to 5pm each day.
Please note we may be closed to visitors when a service is taking place.
Message from the Chaplain
Dear Friends 
With the news of a National Lockdown with effect from Wednesday 6 January, I write to confirm the arrangements for the Chapel. 
After much prayer and consultation, I have decided that the Chapel will be closed for services with a congregation present for the time being. Although the Prime Minister's announcement allowed for places of worship to remain open, I am mindful of the local infection rate for coronavirus and the request from the Royal Borough of Greenwich for all faith leaders to cancel face to face meetings. I do hope that we will be able to reopen and welcome you to worship as soon as conditions permit. 
Sunday worship at 11.00am will continue to be broadcast via the Old Royal Naval College Facebook page, YouTube channel and this page of the ORNC website. 
Monday Choral Evensong and the Wednesday lunchtime Eucharist are currently suspended. 
News of reopening will be shown on the main page of the ORNC website. 
Like all places of worship, our finances have been affected by closure and if you would like to contribute to our ministry, donations to the Chapel Fund can be made using the following details – 
Account Name: The Old Royal Naval College Chapel Gift Aid Account
Sort Code: 30 93 70
Account No: 00415076 
Any donations in support would be most welcome. 
Any questions can be directed to myself or our Chapel Manager Debbie Robson, drobson@ornc.org 
I remain working remotely and will be pleased to have any news or prayer requests. 
To keep up to date with news please see the weekly letter to the congregation below.  To join the Chapel mailing list contact the Chapel Secretary, Dominic Eatwell, ornccsecretary@icloud.com    
With my continued prayers and best wishes, 
Pat 
Reverend Patricia Mann
Chaplain
Email: pmann@ornc.org
Mobile: 07814 704704
Office: 020 8269 4747
---
Regular services and concerts
Anyone is welcome to attend any of our regular Chapel services.
Download our current programme.
For more information contact the Chaplain Revd Pat Mann by email at pmann@ornc.org or call the Chapel Office on 020 8269 4788.
Choral Eucharist
Sundays, 11.00
The Eucharist (which means thanksgiving) is a way of describing the service of Holy Communion or Mass where the bread and the wine are blessed and shared. The service includes readings from the Bible, the singing of hymns, prayers and a talk or sermon from the priest. In choral services, parts are sung by the choir. The form of service is from the Book of Common Prayer from 1662. The Choral Eucharist usually lasts about an hour and twenty minutes. Download this week's Service Sheet.
Choral Evensong
Mondays, 5:30pm
The Chapel hosts a weekly Evensong with evening prayer with music, bible readings and a hymn. Open to all, the service is sung by the talented Old Royal Naval College Trinity Laban choir and the service has a restful and peaceful quality. The service is about 40 minutes long.
Holy Communion
Wednesdays, 13.05
Our service of Holy Communion on Wednesday lunchtimes is a quiet spoken service using Common Worship which is standard for all Church of England services. We listen to bible readings, say the service together, pray and share bread and wine or a blessing. The service is about 30 minutes long.
Choral Matins
Download the programme for dates and times
Choral Matins is morning prayer with music.  There are prayers, bible readings, hymns and a sermon. Many parts of the service are sung by the choir and the service lasts for about an hour and fifteen minutes.
Both Matins and Evensong follow the service as laid down in the Book of Common Prayer from 1662.
Love Your Lunchtime with Trinity Laban
Tuesdays and Fridays, 1pm
Take a moment in the middle of the day to enjoy some of the finest music in The Chapel with chamber concerts by students of our onsite partner Trinity Laban Conservatoire of Music and Dance. Admission FREE, no ticket required. Concerts last approx. 45 minutes. Find out more.
Special events
The Chapel is often used for concerts, services, weddings and recitals and can sometimes be subject to early closures. Plan your visit.
Baptisms, Funeral and Memorial Services
Please contact the Chaplain to discuss baptism services (Christenings) or about holding a funeral or memorial service. These services are generally held for those who are, have been or are willing to become regular members of the Chapel congregation. Memorial services may be held for those who have historic links to the site, perhaps due to their service in the Royal Navy.
Weddings
If you are interested in getting married in the Chapel, please contact our Chapel Manager, Deborah Robson on 020 8269 4788 or email DRobson@ornc.org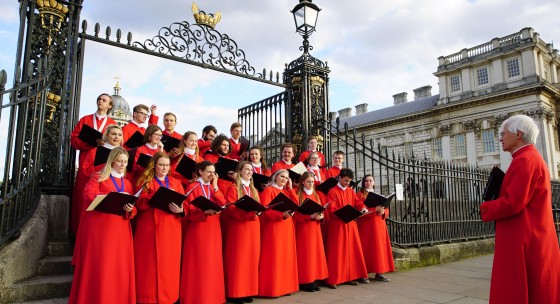 The Chapel Choir
Since 2001, the Trinity Laban Old Royal Naval College Chapel Choir has provided outstanding sacred music for the Chapel. The Choir includes experienced singers from Trinity Laban and the  local community.
The choir is supported by an organ scholar, an assistant organist and Director of Chapel Music.
The choir sings a varied repertoire, spanning over 500 years of music and gives approximately one hundred public performances every year.
Find out about performances and recitals