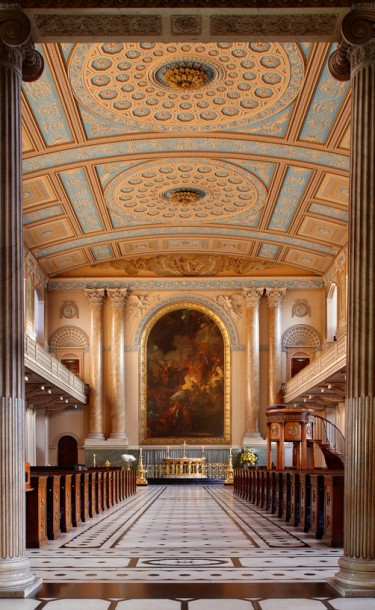 Chapel of St Peter and St Paul
Our beautiful Chapel is free to visit and still an active place of worship.
The history of the Chapel
Chapel Royal
The resident Tudor monarchs would have worshipped at the original Chapel Royal. Archaeological digs have unearthed many artefacts from the site of old Chapel, now the Queen Anne Car Park. These remains are now on display in the Visitor Centre.
As an avid fan of choral music, it was regularly frequented by Queen Elizabeth I. The same composers, such as Thomas Tallis and William Byrd, are still sung in the present Chapel today.
The Royal Hospital Chapel
The Royal Hospital Chapel was built by English architect Thomas Ripley (1682-1758) following designs by Sir Christopher Wren, for the use of the staff and pensioners of the Royal Hospital. The naval veterans were expected to attend the Chapel every day.
In 1779 the Chapel was gutted by fire but was rebuilt by British architect and neoclassical artist James 'Athenian' Stuart (1713-1788) with nautical motifs designed to make the Naval Pensioners feel at home.
The Chapel today
A beautiful place to visit, the Chapel (open daily 10am–5pm) is still an active place of worship with regular services.
Book onto a 500 years of history tour to learn more about the Chapel's fascinating history and admire the enormous altarpiece by Benjamin West (1738-1820), the artist known as the 'American Raphael'. The painting depicts the Biblical story of St Paul and his shipwreck at Malta.
Dig deeper into our story