The Battle of Trafalgar
The Battle of Trafalgar has been remembered in Greenwich for over 200 years. It was fought between the British Navy and the combined French and Spanish fleets off the Cape of Trafalgar near Cadiz.  It was a decisive naval battle at a time when invasion hung in the balance and was a turning point in the war against Napoleon's France.
It is perhaps best remembered as a tactical triumph. Outnumbered 33 to 27 the British Fleet, under the command of Admiral Lord Nelson, formed two columns and sailed straight at the French in a risky head-on assault.
In a movement called 'Crossing the t' the British were to cut the French line in half, disable the French flagship and cause panic and confusion among the enemy.
So, who won the Battle of Trafalgar?
It depends on which newspaper you read! The battle was an overwhelming victory for Britain. 450 British men were killed, but more than 4000 Spanish and French men lost their lives. One French account of the time, however, proclaimed a victory for France, stating that 'The English Fleet is annihilated…our loss was trifling'.
What role did Greenwich play in the story?
Admiral Lord Horatio Nelson lost his life at the height of the battle, shot by a marksman. Nelson's body was preserved in alcohol for the long journey home and arrived at the Royal Hospital for Seamen at Greenwich (now the Old Royal Naval College) on a cold and rainy Christmas Eve, 24 December 1805. It was carried to the former records room at the back of the Painted Hall (now the Nelson Room) where it was prepared for a lying-in-state. Nelson's coffin lay in state in the Upper Hall, which was all draped in black for the occasion, from 5 to 7 January 1806, before his burial at St Paul's Cathedral: thousands of people came to pay their respects.
King George III awarded medals to the senior officers and captains of the ships of the line at Trafalgar but the Crown did not award medals to the junior officers and lower ranks until more than 40 years later. In 1847 Queen Victoria authorised the Naval General Service Medal for naval victories between 1793 and 1840, including Trafalgar. Veterans of Trafalgar who were still alive could wear the medal with the 'TRAFALGAR' clasp across the ribbon.
Many of the seamen who had served at Trafalgar were admitted to the Royal Hospital for Seamen at Greenwich and spent the last days of their lives as Greenwich Pensioners. A photograph taken by John Havers in 1854 (below) shows a group of Pensioners, some of them wearing their recently awarded medals. They include one of an unknown number of Black seamen who served in the British Navy at the Battle of Trafalgar.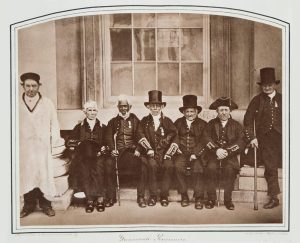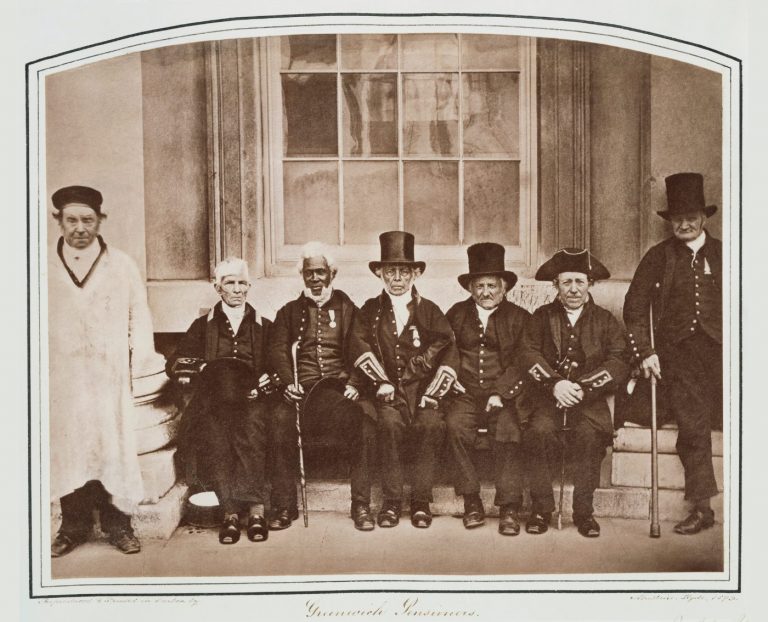 Royal Collection Trust / © Her Majesty Queen Elizabeth II 2020